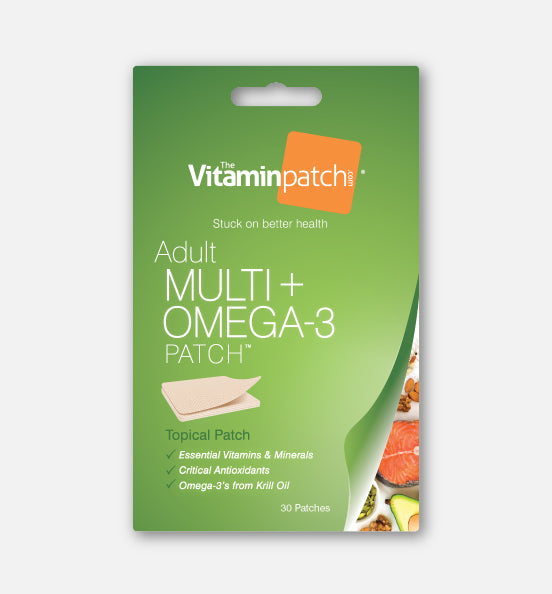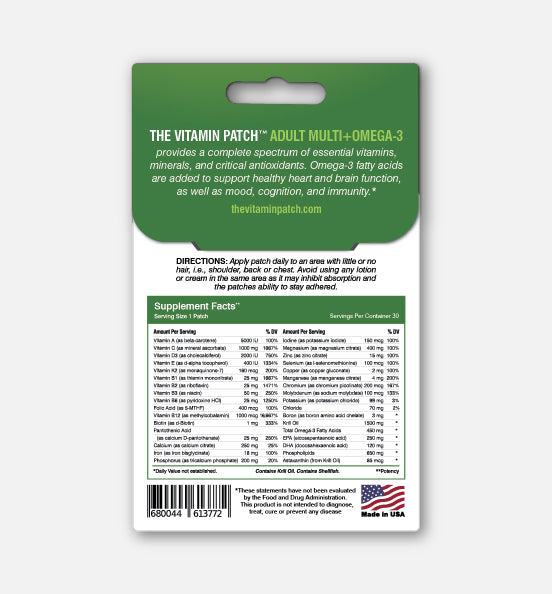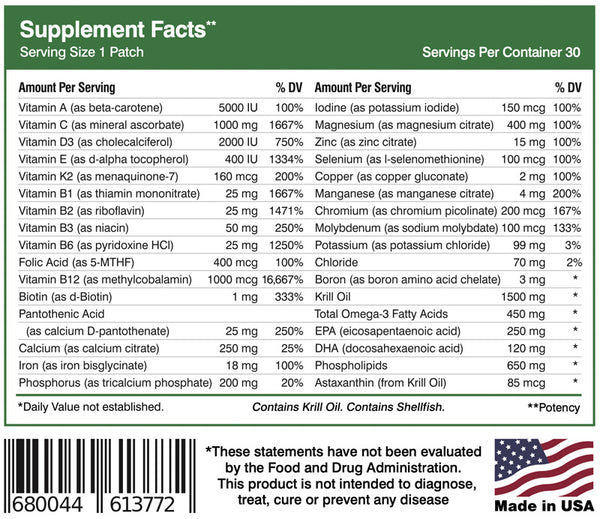 Adult Multi + OMEGA-3 Patch With Bio-Available Omega-3 from Krill Oil | 30 Topical Patches
The Adult Multi-Vitamin + OMEGA 3 Patch™ contains a synergistic blend of all natural, time released ingredients that helps you get the maximum amount of daily vitamins and minerals that are essential to healthy living and bodily function.
ADULT MULTI + OMEGA-3 Patch™ provides a complete spectrum of all-natural essential vitamins, minerals, and critical antioxidants.
Omega-3 fatty acids from sustainable krill oil are added to support healthy heart and brain function, as well as mood, cognition, and immunity support.
100% Natural
All-natural supplements. No fillers or preservatives. No artificial colors or sweeteners.
Essential Nutrition
Complete multi-vitamin for adults plus essential OMEGA 3 fatty acids.
Convenience
Just put on a patch and go. Better absorption than pills. No mess, no fuss, no hassles.
Easy to apply topical patches. No pills to swallow.
Essential Vitamins & Minerals
Critical Anti-Oxidants
Supports Immune System
Supports Healthy Heart

Supports Brain Function
Each Adult Multi + OMEGA-3 Patch Contains:
Specific Clinical Objectives of TVP™ Adult Multi

Vitamins A, C & E: Rich in immune enhancing antioxidants Vitamins A, C, and E.
Vitamin D3: Contains Vitamin D3 which is considered a "miracle nutrient" for your immune system, as it enables your body to produce well over 200 antimicrobial peptides, which are indispensable in fighting off a wide range of infections. Vitamin D3 enhances calcium and phosphorous absorption, stimulates the synthesis of osteocalcin (an important structural protein in bone), and is involved in proper cell differentiation and immune response.
Vitamin K2: Vitamin K2 belongs to a group of vitamin K compounds called menaquinones, which show greater bioactivity when compared to K1. K2 is absorbed more completely, remains in the body longer and delivers more benefits for bones, blood vessels, and other soft tissues.
Folic Acid: Folic acid is used for the production of DNA and red blood cells. It supports brain and nervous system function and benefits mental health. Folic Acid is also needed for protein metabolism and may support cardiovascular health.
Vitamin B-12 (as Methylcobalamin): Vitamin B-12 is a water-soluble B vitamin essential for carbohydrate metabolism and energy production. It also plays an important role in the formation of healthy red blood cells.
Iron (as iron Bisglycinate): Iron is a critical component of hemoglobin' the main oxygen-carrying compound in the blood' and therefore a prerequisite for adequate oxygen supply to the cells. Iron is also required for energy production and collagen synthesis.
Krill Oil: Clinical studies have shown that Krill Oil can help to support joint comfort, healthy blood lipid levels already within normal range, and may help to maintain healthy feminine balance.
Astaxanthin (Haematococcus Pluvialis): Astaxanthin is a natural antioxidant carotenoid has been shown to promote a healthy inflammatory response, support skin during exposure to sunlight and support joint and eye health.
---
This information has not been evaluated or approved by the FDA and is not necessarily based on scientific evidence from any source. These statements have not been evaluated by the Food and Drug Administration (FDA). These products intend to support general wellbeing and do not in-tend to treat, diagnose, mitigate, prevent, or cure any condition or disease.
Vitamin Patch
Glad my Dr. recommended these! Eliminated many supplement bottles.
So far so good!!! Telling friends
Multi vitamin
These are great for anybody that doesn't like to take pills. I firmly believe these are helping me stay healthy.
MultiVitamin Patch
Absolutely love these Patches.
Easy to use
Dosing perfect
Im glad I found these
Patch Review
This last package of patches is very sticky. Taking them off is more like band aid. Still a great product!