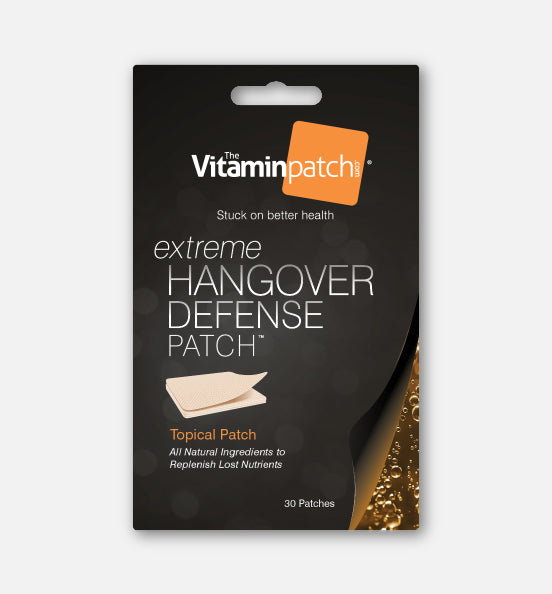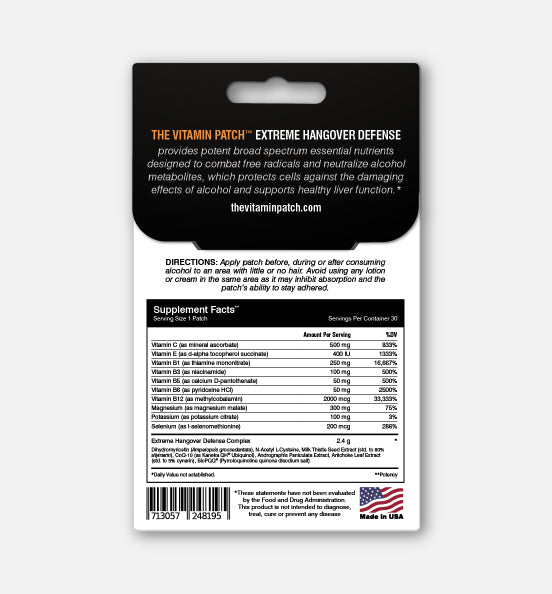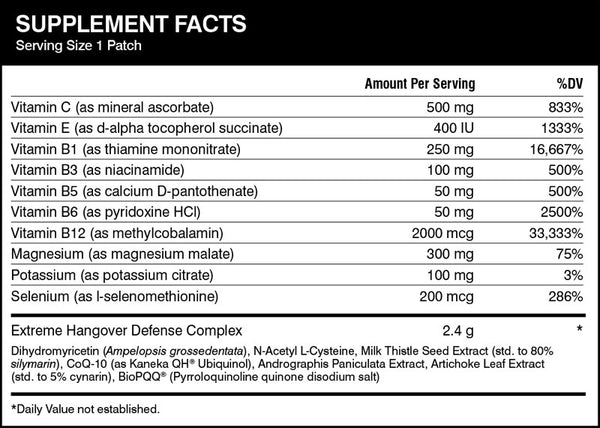 Extreme Hangover Defense Patch | 30 Topical Patches
Vital nutrients are lost when drinking alcohol that can leave you feeling less than chipper the next day. The Vitamin Patch Extreme Hangover Defense is designed to replace those lost nutrients and kick that brain fog and headache to the curb. Our proprietary formula has key ingredients to actually assist in eliminating alcohol from your system and support healthy liver function.

The best news is that it only takes one time released topical patch put on before the cocktails begin to flow to give you the best chance of making it to that morning meeting! And, if you had a few more than usual and wake up still feeling a bit less than perfect, put a second Extreme Hangover Defense patch on to help get you through the day. Don't let a few cocktails with friends leave you regretting the next morning. Let The Vitamin Patch and Extreme Hangover Defense help you enjoy the fun and still feel your best!
100% Natural
All-natural supplements. No fillers or preservatives. No artificial colors or sweeteners.

Re-Vitalize
Time released delivery. Replace vital nutrients lost when drinking. Assists in eliminating alcohol in your system.

Convenience
Just put on a patch and go. Better absorption than pills. No mess, no fuss, no hassles.
Each Extreme Hangover Defense Patch Contains:
Vitamin C:
Vitamin C is depleted by alcohol consumption which is important for reducing alcohol induced oxidative stress in your liver.
Vitamin B3 (as Niacinamide):
Vitamin B3 is the form of niacin that circulates in the bloodstream and is needed for the synthesis of energy (ATP), the activation of folate and the regeneration of glutathione an antioxidant that helps to protect the liver.
Vitamin B12:
Vitamin B12 helps to convert carbohydrates into glucose which fights from fatigue and provides energy to your body.
Magnesium:
Magnesium intake supports the alcohol dehydrogenase enzyme that breaks down alcohol and eliminates it from the body.
Dihydromyricetin:
Dihydromyricetin improves the ability of the liver enzymes alcohol dehydrogenase and acetaldehyde dehydrogenase. These enzymes are what the liver uses to clear both alcohol and acetaldehyde from the bloodstream, and dihydromyricetin makes them work faster.
NAC:
NAC is a form of the amino acid cysteine. It is known to help increase glutathione and reduce the acetaldehyde toxicity that causes many hangover symptoms.
Milk Thistle:
Milk thistle contains silymarin and silybin, antioxidants that are known to help protect the liver from toxins, including the effects of alcohol. Not only has silymarin been found to increase glutathione, but it also may help to regenerate liver cells.
Andrographis Paniculata:
Andrographis paniculata supports the immune system, protects against microbes and is used as a liver tonic in Traditional Ayurvedic Medicine.
Artichoke Leaf:
Artichoke leaf contains Chlorogenic acid and cynarin the two most active compounds found in this extract. In clinical studies these powerful compounds have shown to demonstrate a significant antioxidant effect capable of protecting liver cells from damage.
PQQ: 
The most recent research now reveals PQQ (pyrroloquinoline quinone) can reverse liver damage caused by excessive alcohol consumption.
---
This information has not been evaluated or approved by the FDA and is not necessarily based on scientific evidence from any source. These statements have not been evaluated by the Food and Drug Administration (FDA). These products intend to support general wellbeing and do not in-tend to treat, diagnose, mitigate, prevent, or cure any condition or disease.
My Lifeline
I discovered these patches via another vendor originally and used these daily to help me recover from my infusions. My recovery time went from 3 weeks to about 3 days. I was using them every day. I was disappointed when the vendor I got them from discontinued carrying them. I can't tell you how excited I am to have found these again! I've used the rest of my supply very sparingly over the last year and half. They are the best fit recovery. I realize they are for hangovers but I will tell you that some infusion medications deplete you as much as alcohol and these are the bomb.
Amazing
Just when you think you are getting too old to hang with the young ones...one ot maybe 2 patches and not only are you confident in staying and enjoying the evening, the next day you don't feel.like death warmed over. Love these patches
Love these
I used to doubt these but once you try them you will be a believer! These work so well. I can go out and have a great time and not worry about the headache and rough next day
Dr. Mary Smith
I have a renewal subscription I have been trying, in vain, to terminate.
Life savers for sure!
I absolutely love the Hang over defense patches. I can have a great time enjoying all the adult beverages i want and wake up ready for my day the next day. Super easy to use. They also work well for regular headaches as well <3