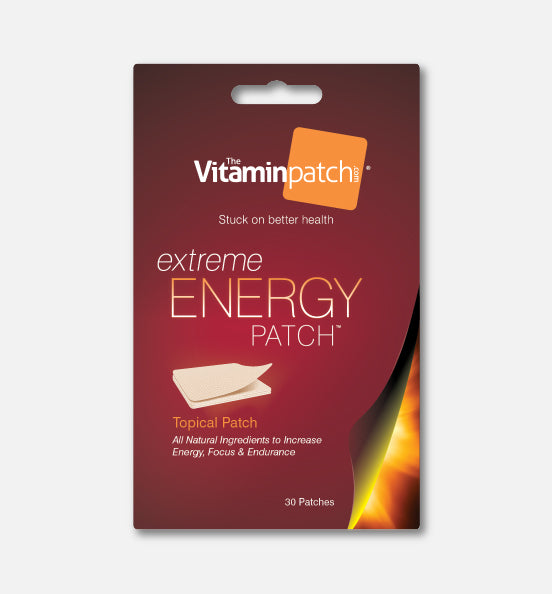 Extreme Energy Patch | 30 Topical Patches
The Vitamin Patch Extreme Energy is designed to sustain a clear, focused stream of energy throughout the day. The all natural ingredients combined with our time released topical patch will not only get you through your afternoon lull but help support you right through dinner with the family. The best part is that the Extreme Energy formulation is designed to support your overall system on a long term basis and increase your natural energy over time. So STOP wasting your money on products that are only a short term fix that leave you feeling worse and START doing something that can provide what you truly need...focused, natural energy throughout the day!
100% Natural
All-natural supplements. No fillers or preservatives. No artificial colors or sweeteners.
All Day Energy
Time released delivery. No jitters, spikes or crashes. No bad tastes or odors.
Convenience
Just put on a patch and go. Better absorption than pills. No mess, no fuss, no hassles.

Each Extreme Energy Patch Contains:
Vitamin B3 (as Niacinamide):
Vitamin B3 is the form of niacin that circulates in the bloodstream and is needed for the synthesis of energy (ATP), the activation of folate and the regeneration of glutathione.
Vitamin B5 (as Calcium D-Pantothenate):
Vitamin B5 is essential for the production of energy (via the Krebs Cycle), the synthesis of adrenal hormones, protein metabolism, and wound healing.
Vitamin B6 (as Pyridoxal 5-Phosphate):
Vitamin B6 has been shown to protect living lipids and proteins against glycation reactions. Aging results in the formation of advanced glycation end products throughout the body.
Quarterfolic® (as 5-Methyltetrahydrofolic Acid):
Quar
terfolic
®
is an essential B vitamin needed by the body to produce and maintain new cells, as well as for the creation of DNA and RNA.
Vitamin B-12 (as Methylcobalamin):
Vitamin B-12 is an essential B vitamin for carbohydrate metabolism and energy production. It also plays an important role in the formation of healthy red blood cells.
Agmatine Sulfate: 
Agmatine sulfate inhibits the enzyme that breaks down Nitric Oxide (NO). With increased NO, you create an environment for increased nutrient delivery, improved metabolic waste removal, and most importantly, increased overall performance.
Cordyceps Sinesis: 
Research studies show cordyceps sinensis increases ATP (Adenosine Tri-Phosphate) energy production and increases oxygen utilization.
CoQ-10:
CoQ-10 exists in the mitochondria which are the tiny energy centers in each of our cells. Not only does CoQ-10 scavenge and destroys free radicals that cause cardiovascular problems and heart disease, it sparks energy production in every cell of your body including the heart.
Rhodiola Rosea: 
Several studies have shown rhodiola rosea can dramatically reduce mental and physical fatigue under stressful conditions, by increasing the body's energy levels.
Korean Ginseng Extract: 
Clinical studies have shown that Korean ginseng extract stimulates the immune system, improves mental and physical performance, reduces fatigue, supports healthy glucose regulation, and improves overall quality of life.
PQQ (Pyrroloquinoline Quinone)
: PQQ has been shown to induce mitochondrial biogenesis, the growth of new mitochondria in aging cells. While CoQ-10 optimizes mitochondrial function, PQQ activates genes that govern mitochondrial reproduction, protection, and repair.
---
This information has not been evaluated or approved by the FDA and is not necessarily based on scientific evidence from any source. These statements have not been evaluated by the Food and Drug Administration (FDA). These products intend to support general wellbeing and do not in-tend to treat, diagnose, mitigate, prevent, or cure any condition or disease.
Extreme energy
Love it. Feeling so much better since using!
Love these energy patches!
I've been using these patches for several years and they do make a difference. On day's that I feel 'off' I realize that I didn't have a patch on.
Received samples of the sleep patch and have started using them as well. They help me fall back to sleep after getting up to use the bathroom.
vitamin patch
Not a good product FOR ME...at least during the summer...I live in Texas...sun is beyond brutal...I work 12 acres of land for wildlife...I SWEAT A LOT...patches just slide off within 15 minutes of me stepping outside. As me again when temperatures drop.
IN LOVE!!
These patches are the absolute BEST! I have so much energy!